LifePulsePro+ diagnostic system
The two-channel diagnostic system "LifePulsePro+" has additional features compared to the single-channel LifePulsePro system.
"LifePulsePro+" can be used as a single-channel system for conducting tests and trainings. One pulse sensor is used to perform the following:

Heart rate variability test & Ayurveda
Respiratory test and training
Orthostatic test
Ruffier test
BioFeedBack test
Homeopathic test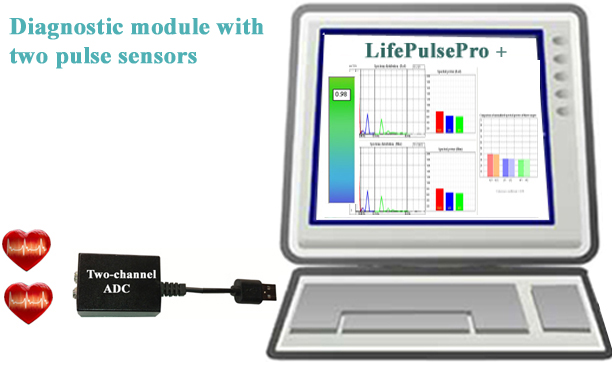 The two-channel diagnostic system "Life Pulse Pro+" can process information from two pulse sensors simultaneously.
Two pulse sensors are used to measure the pulse wave velocity. The PWV Software module is activated for this measurement.
In addition, two pulse sensors are used to assess the psycho-emotional coherence of two people using the "Two Hearts" Software module.





Videos about LifePulsePro+ diagnostic system (two-channel system)

LifePulsePro+ diagnosis system by modern digital technology, can reliably and objectively to evaluate the real status of functional systems of the body.

Lithuania Vilnius
e-mail: info@lifepulse.lt

Copyright © 2023 All Rights Reserved.